In BBC's The Great British Bake Off, sometimes you are greeted by this shot:
Followed by some of these:
I mean, what could you possibly not like about a show like that?
The Great British Bake Off is a competition TV show by BBC which is filmed on-site in a big white tent where contestants are given three challenges per weekend, which they have to bake and present to judges Paul Hollywood and Mary Berry. (How apt is her name?) In each episode there is a 'Star Baker' (i.e. the person who's absolutely blown the minds of Mary and Paul with their dessert) and some poor chap who gets eliminated because they messed up the pastry or murdered the recipe.
Although it is a competition, there is a light-hearted atmosphere in every episode with Mel Giedroyc and Sue Perkins providing some British witty humour, and judges who are honest and straightforward, yet do not verbally abuse the contestants.
coughgordonramseycough
The contestants are a pleasant bunch – nobody steals nobody's flour and nobody tells the guy behind the camera that they're the best. Nope, none of that America's Next Top Model shit.
In every episode, I look forward to seeing the creative ideas of the bakers, and their mouth-watering desserts. I get so inspired to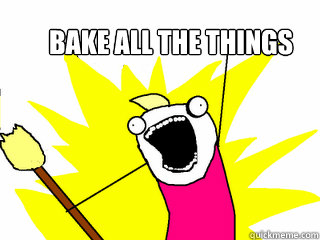 But unfortunately I'm not allowed to cook/bake in the Cs', lest I ruin the kitchen. (In my own home, I once tried a 2-minute microwave brownie which actually blew up. The entire house reeked for a day.) This pretty much sucks because it means that I have to wait for three more weeks until I get back to Singapore, then bake frantically for twenty days before flying back to London. NOOOO.
Alternatively, I could go over to one of my friends' places where they are allowed to cook/bake. But there's just something better about baking on my own... I am in complete control of the whole process, and, whatever the outcome is – whether they are perfect little macarons or flat and tasteless soufflé cakes – I know that it's the result of my effort, and that I can reward myself afterwards in the form of cake/pudding/tart without a voice in my head going, "Ah damn, she didn't beat the egg whites enough," or "Argh, I told him – brown sugar, not white."
There isn't a better way to end off this blog post than a few screenshots from season 3 episode 3 of The Great British Bake Off.
__________