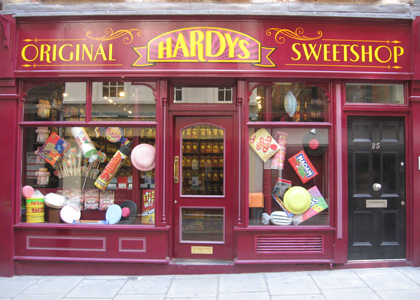 There's a cute, vintage-looking little sweetshop near Covent Garden called Hardys. It sells many rare and snazzy confectionaries, ranging from posh Italian nougat to Angry Birds-endorsed candy. (Why.)
It is absolutely gorgeous. I finished the whole bar before dinner, it was just that good. It was sweet, slightly soft, crunchy and creamy. There was a fragrance of white chocolate in it, and it contains a generous filling of almonds and hazelnuts. There must've been mascarpone in it somewhere as promised, but I couldn't distinctly find it, but the flavour as a whole was an A++++***+++withgoldenstars. I'm adding this nougat to my must-buy-when-in-Covent-Garden list alongside Ben's Cookies, and I will aim to add all its flavours to my palate like pokémon into a pokédex.
This looked promising. I fell in love with cookie dough while I was making oatmeal chocolate chip cookies at Chaice's house sometime last year. It was the perfect cookie dough. The kind that you wanna finish up before it even gets a chance to go into the oven.
This, however, went nowhere near cookie dough. Not the taste, nor the texture. You know the kind of cookie dough chunks you get in Ben & Jerry's tubs? This had that kind of solid, crumbly texture, coated with mediocre milk chocolate. The insides look nothing like in the picture on the box.
It's an annoying confusion of flavours, much like trying to read an essay written on confetti-sized paper, such that all I taste is artificial sweetness. The contents are as dissatisfying as a half-filled packet of crisps, especially for its price. What
these kids say
pretty much sums it up.
I'm still going to try the "Cinnamon Bun Bites" and the "Cookies 'N Cream Bites" if I can find them.
This isn't from Hardys, it's an impulsive purchase from ASDA in Twickenham a few days ago. I got some Daim from Tesco's just before I left London for winter break, and I really liked it, and could definitely see the reason for all the fuss over it.
Well, in retrospect, I don't see the need for these Milka people to come and try to make what looks like another type of Daim chooclate bar. It is rather yummy, but I'd much rather have the real thing.
Hardy's
25 New Row, Covent Garden
London WC2N 4LA
Tel: 020 7240 2341
Opening times: Mon-Sat 10am-7pm, Sun 11am-6pm